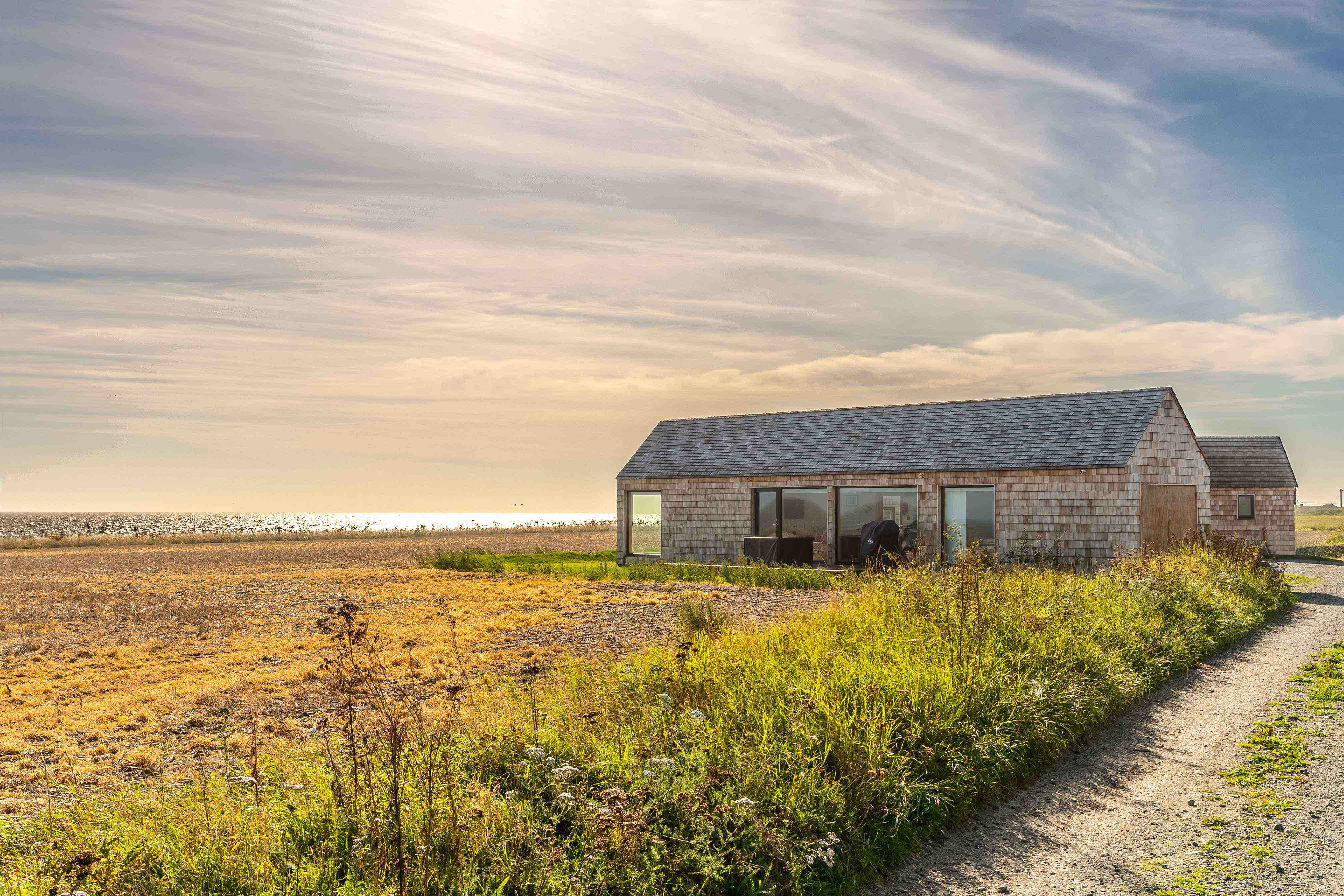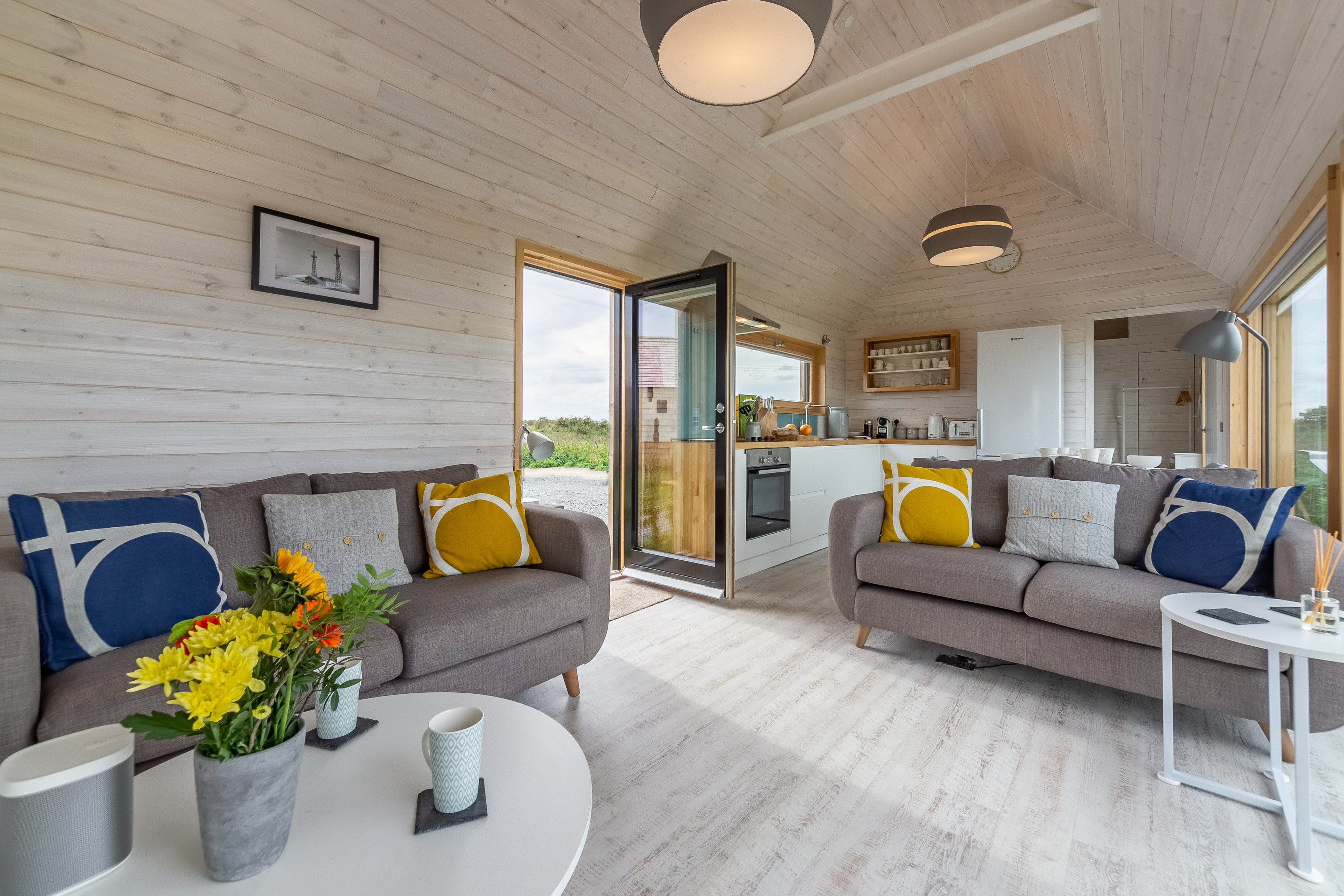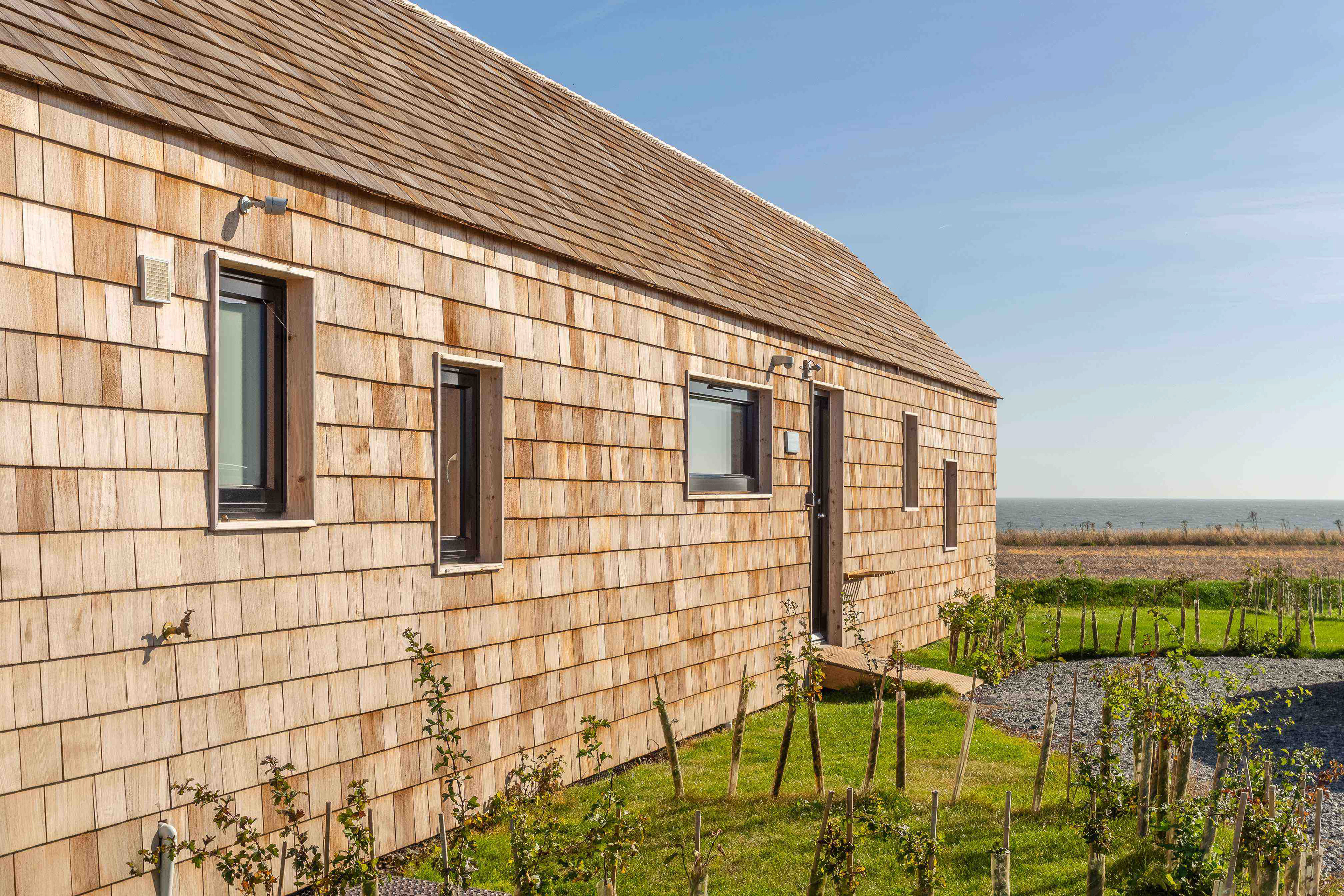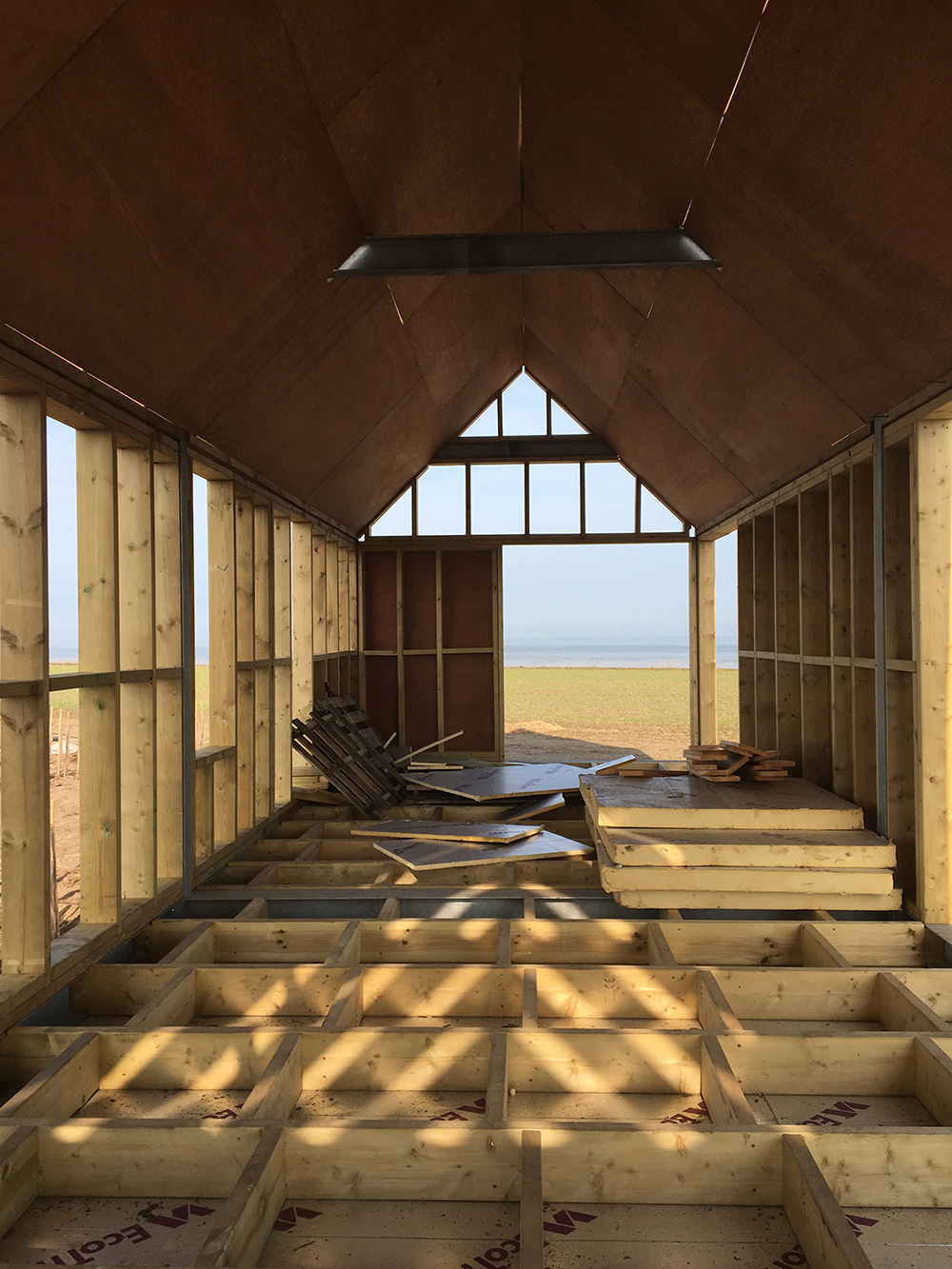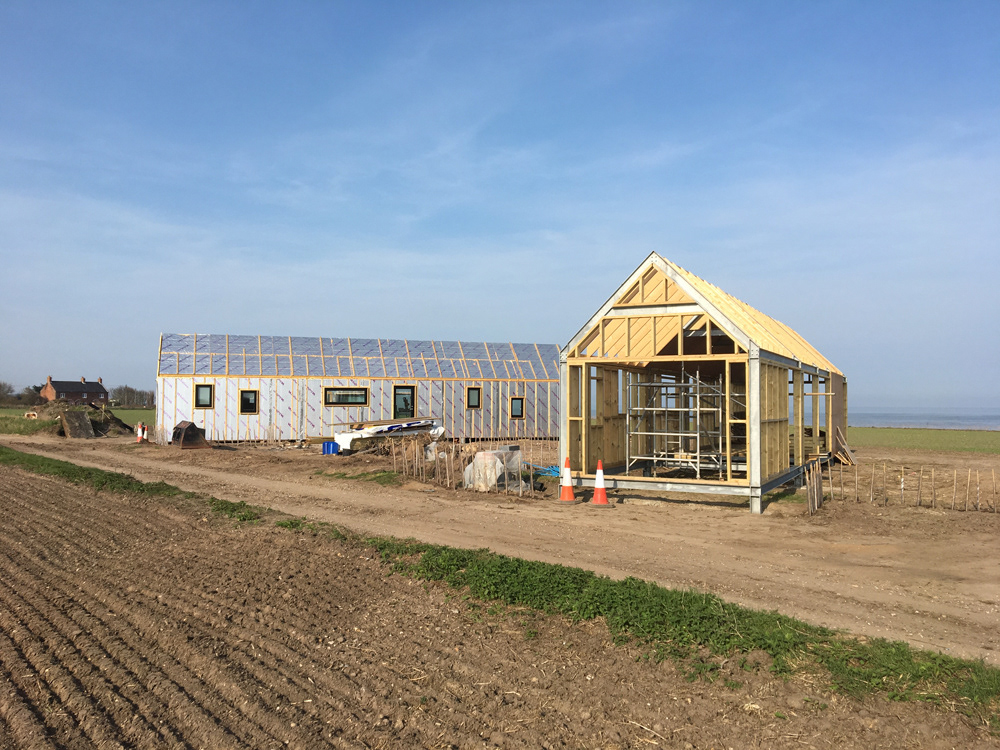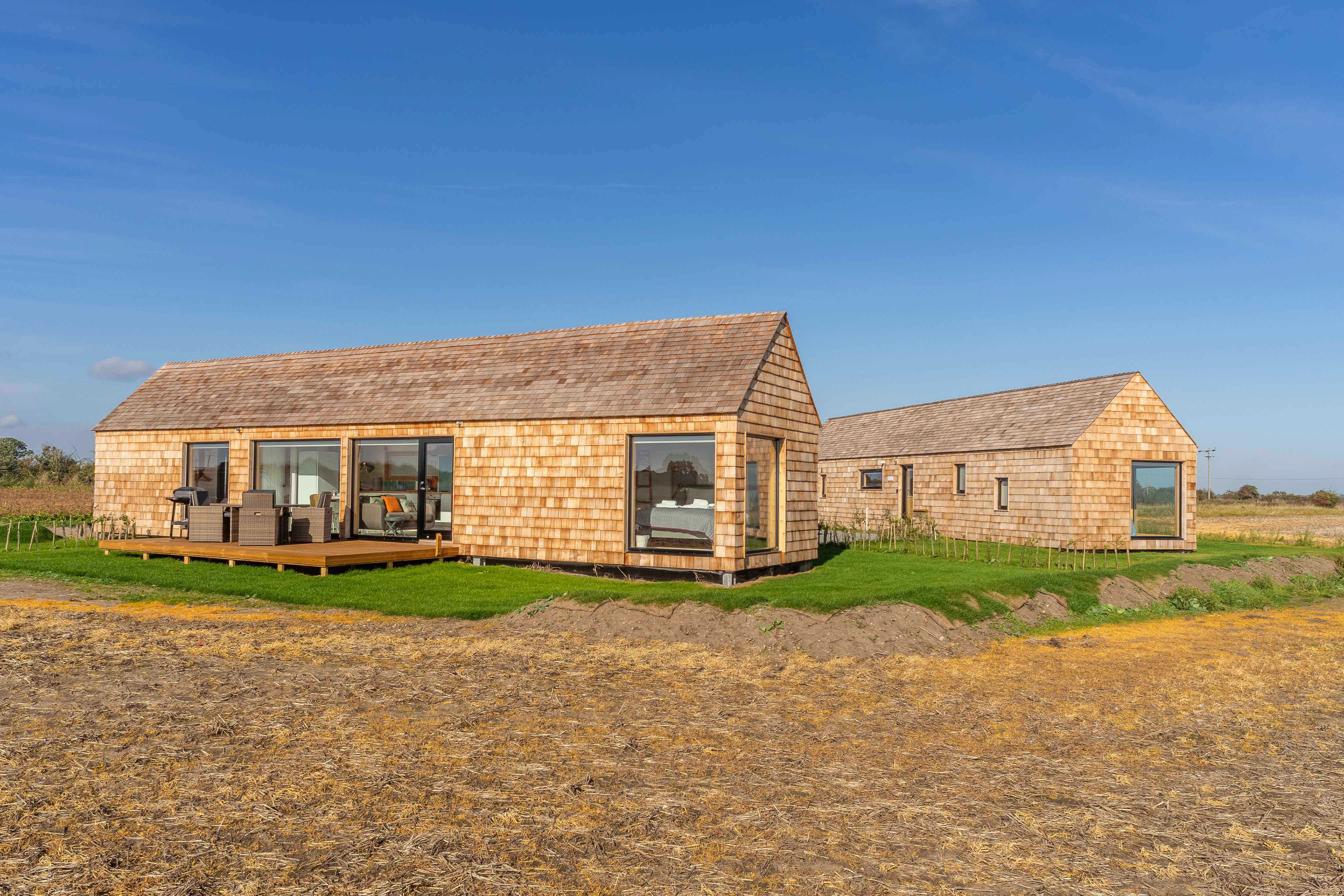 The Listening Station, Southwold
Beech Architects
The project was the demolition of an old Royal Navy listening station that was at risk of falling into the sea from coastal erosion. Its replacement sees the construction of two new build portable low energy holiday homes, which have panoramic views across the North Sea from the fast eroding cliff top. These buildings can be simply disconnected and craned onto a vehicle, then moved inland to an appropriate location. This is portable architecture that adapts to coastal change whilst diversifying farm income. 
When designing these holiday homes on the Suffolk coast, Beech Architects were already considering the end of life potential of the materials. If the coastline eroded, or the buildings were no longer needed, the structures could be moved to a different location, but they've also been designed to be 'infinitely recyclable'. 

The completed structures replace a derelict building of asbestos and concrete that was a problem for the landowner. They have enabled the farm owner to diversify income, fund the removal of a derelict brownfield building avoiding costs if erosion caused collapse and at the same time provide a pair of landmark buildings located on the cliff top adding to the tourist accommodation in the local area. 

The design creates two gabled fully portable buildings that mimic the original dual gables of the RN building they replace. They are designed to sit low with a horizontal emphasis within the flat landscape. The monolithic appearance was deliberate to avoid detail within this plain simple landscape and the cedar shingles are used to soften and weather to blend the buildings into the natural landscape as oppose to metal or brick. The natural wood weathers to a silver grey seen in sky and sea of this location. The buildings have large windows to this windswept landscape so as to place the occupier right within this coastal area of outstanding natural scenery to fully appreciate its beauty. The design is very low maintenance. No gutters or downpipes, no decorating externally, no mortar or cement to crack etc. They are allowed to weather naturally. 
The local community are pleased to see the reuse of this derelict site and that the buildings are subtle and of low impact. Southwold is a tourist town and its economy relies largely on tourism. This scheme rather than competing with the cottages and apartments on offer in the town offers something new in that it is a pair of portable buildings on the cliff top of contemporary architectural design. Its unique design and location has acted as a catalyst by showing what can be achieved with buildings at risk of coastal change, which applies to many others locally along this shoreline that are currently simply abandoned. 
These buildings can be moved as the coast retreats and thus react to climate change. The steel frame supports a timber shell with crane points built in at either end that allows relocation when necessary as erosion occurs. The width and length is designed to suit an articulated lorry size allowing for simplicity in moving. The foundations were designed as minimal pads on a grid ensuring the holiday homes touch the site lightly and it can be restored with the minimal of effort. This innovative approach to design and usage allows for a redevelopment in a location that otherwise would not be allowed due to coastal change as well as minimal impact in this Area of Outstanding Natural Beauty. All services such as sewage treatment are placed 100 m away inland to allow for this coastal retreat. 
The building is entirely recyclable with aluminium and wood windows, galvanized steel and timber frame and plaster free. The components can be taken away and used in other projects. The wood shingles can be chipped for landscaping at the end of their useful life. The building is wrapped in a thick insulation and with low U value windows it minimises heating costs and thus its carbon footprint. 
The project had a limited budget as each year the farm reduces in size substantially due to coastal erosion and the scheme had to be entirely self-funded by the owners. Each unit was built for only £80,000 including furnishing and they now rent for £700 to £1200 per week. They are both almost fully booked for this year giving an excellent return on investment. 
This is a unique solution to coastal change, self-funding the removal of derelict buildings, providing a diversified farm income and enhancing the local tourist offer with something contemporary and entirely new in location and concept. As the coast erodes the building can retreat with minimal effort and as such allows for climate change and sits in harmony with it. At the same time this was all achieved for a minimal budget and is now producing a high return and increasing visitor numbers to this area of coast.
Photographs © Suffolk Hideaways.