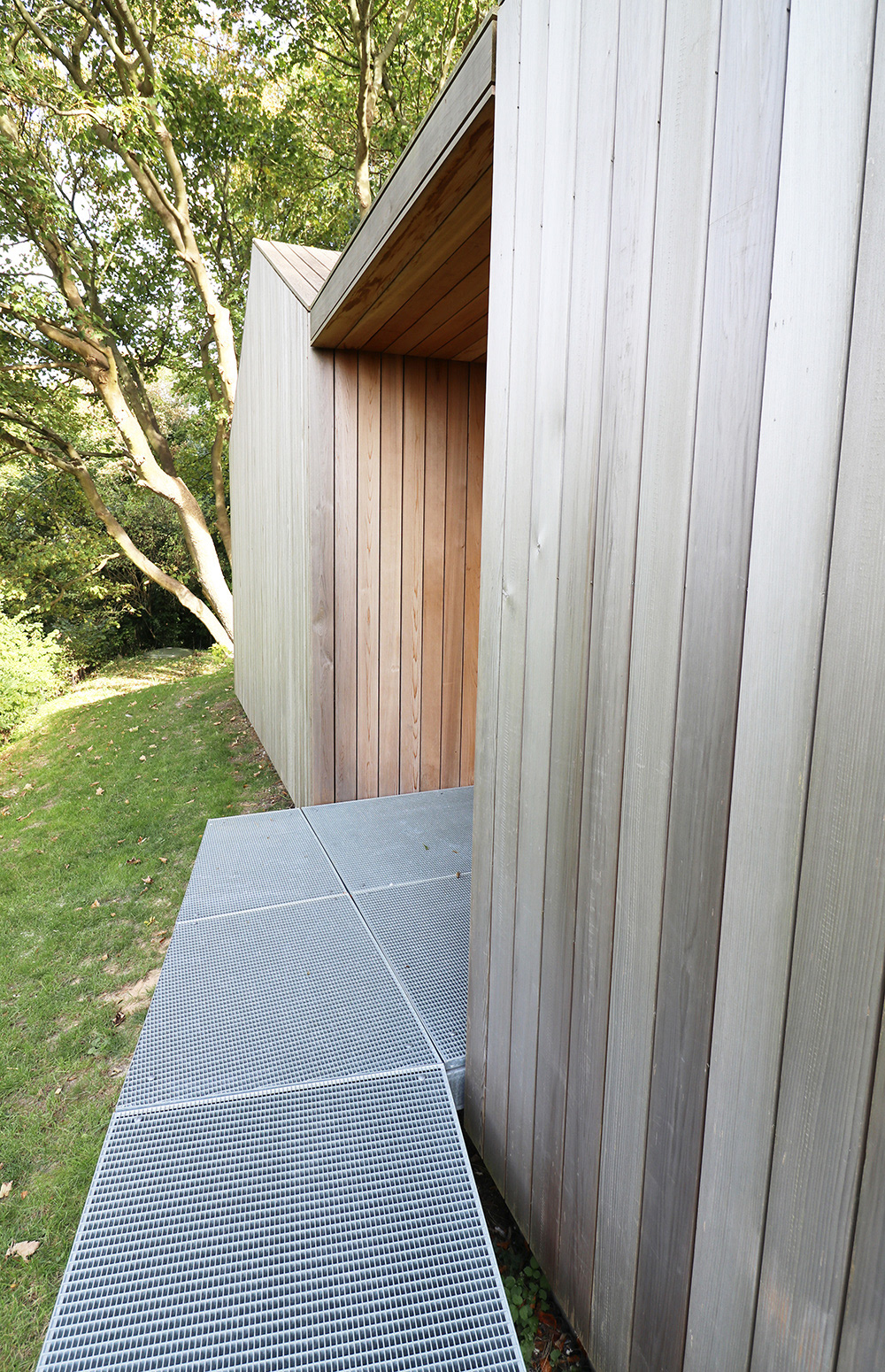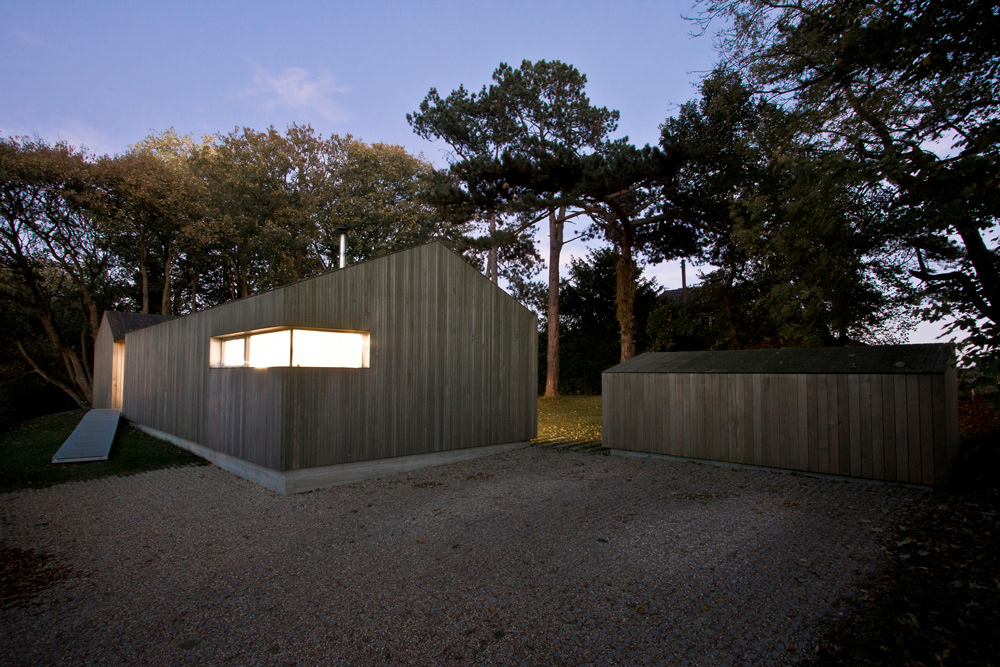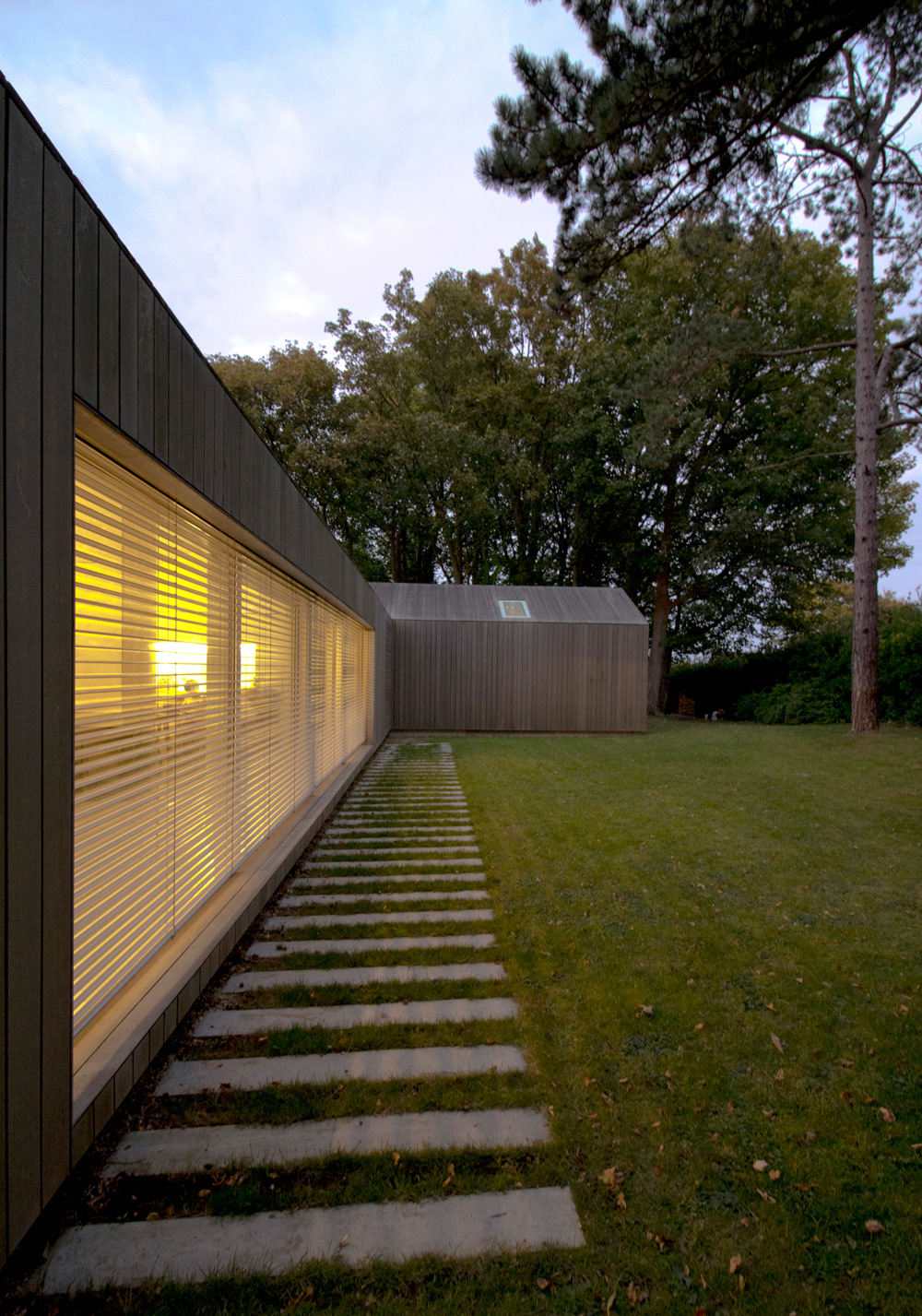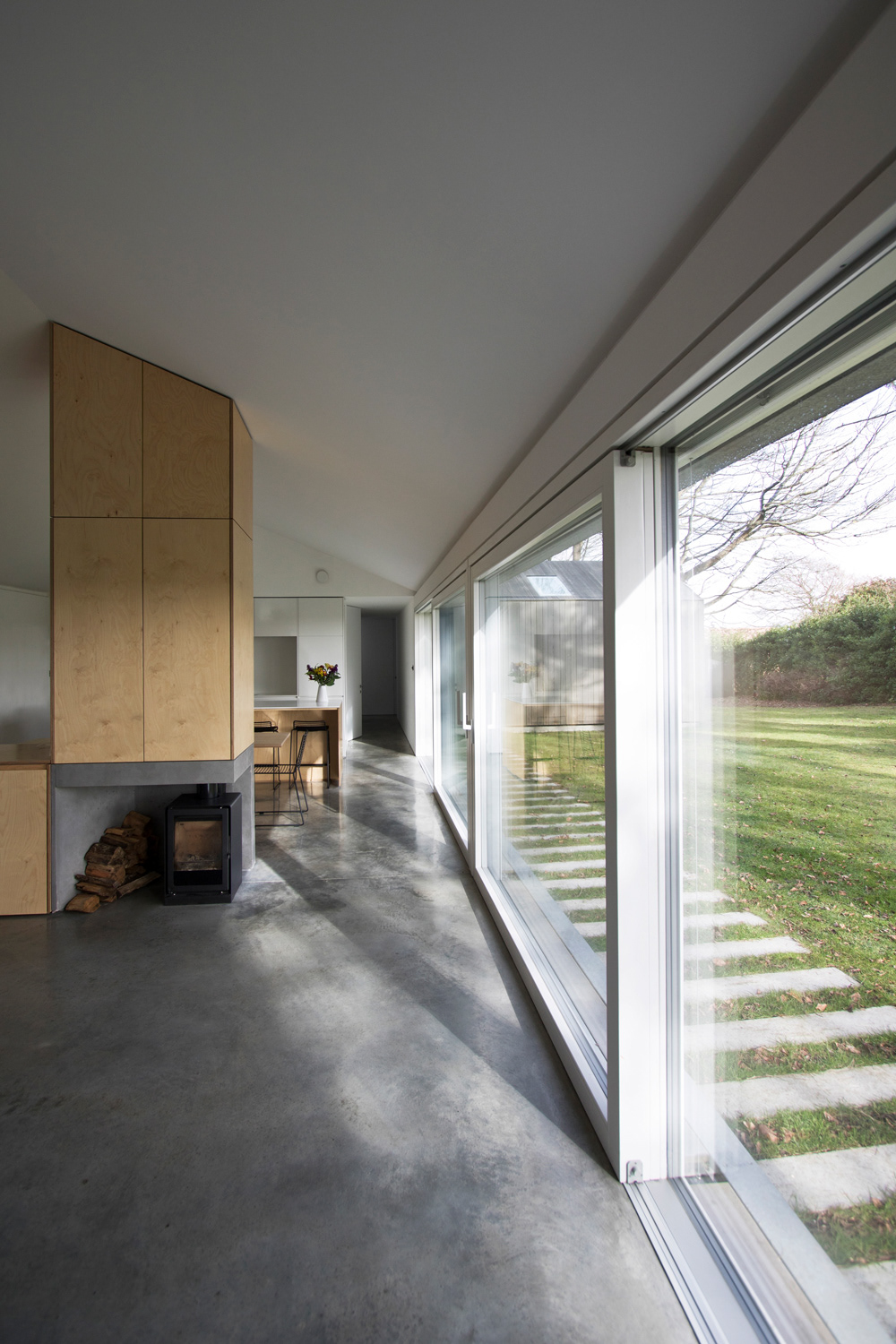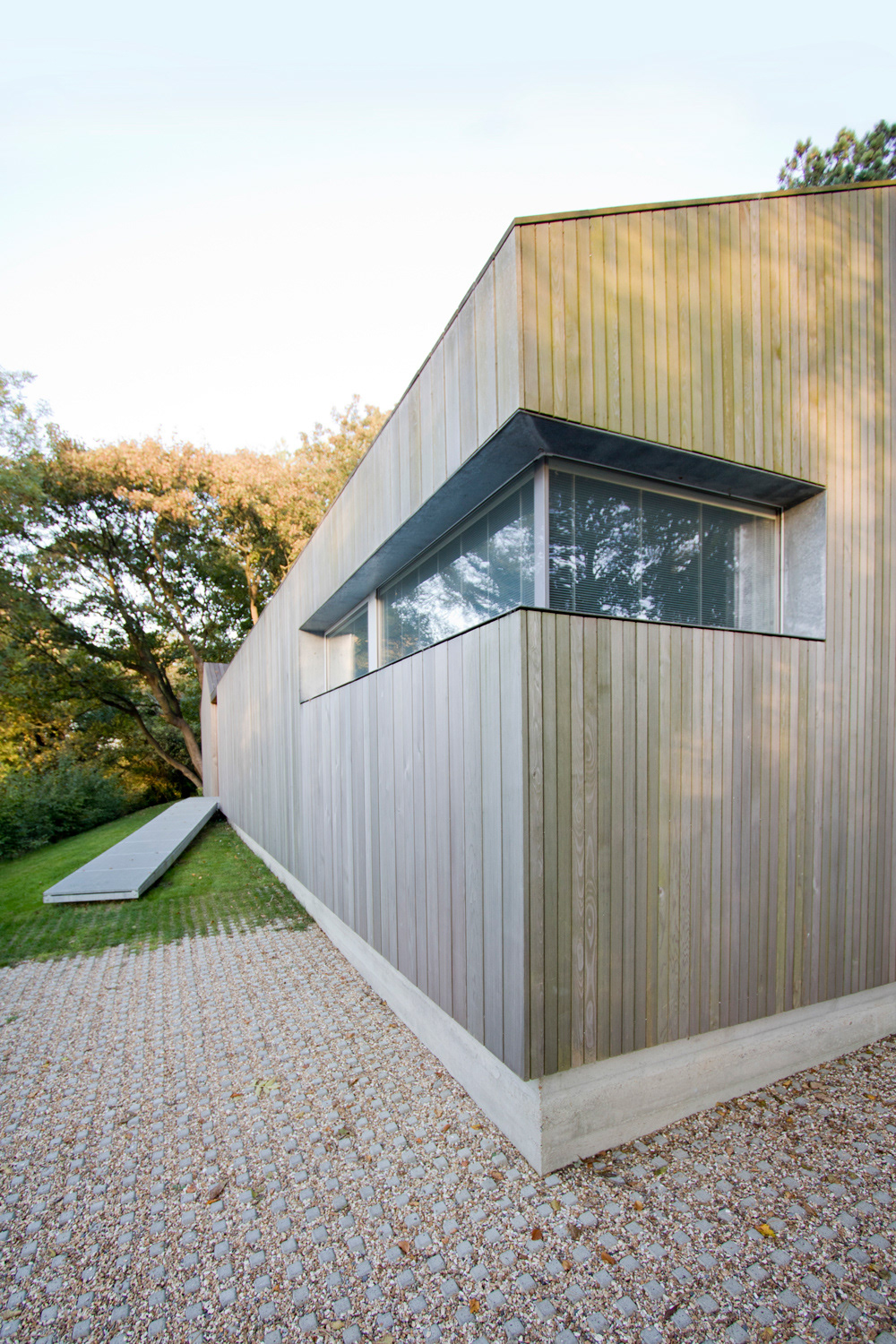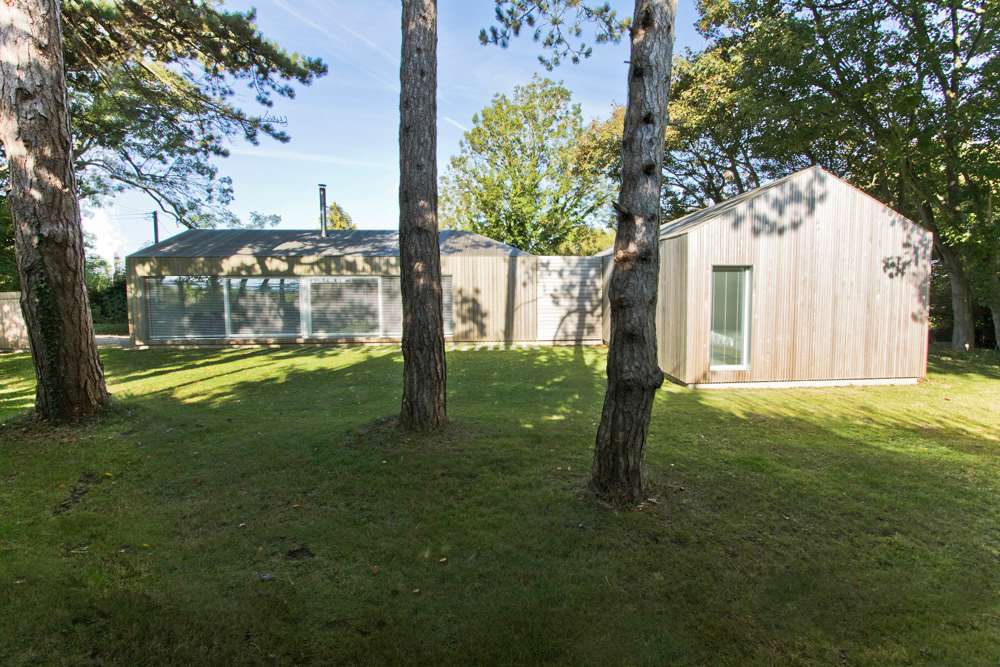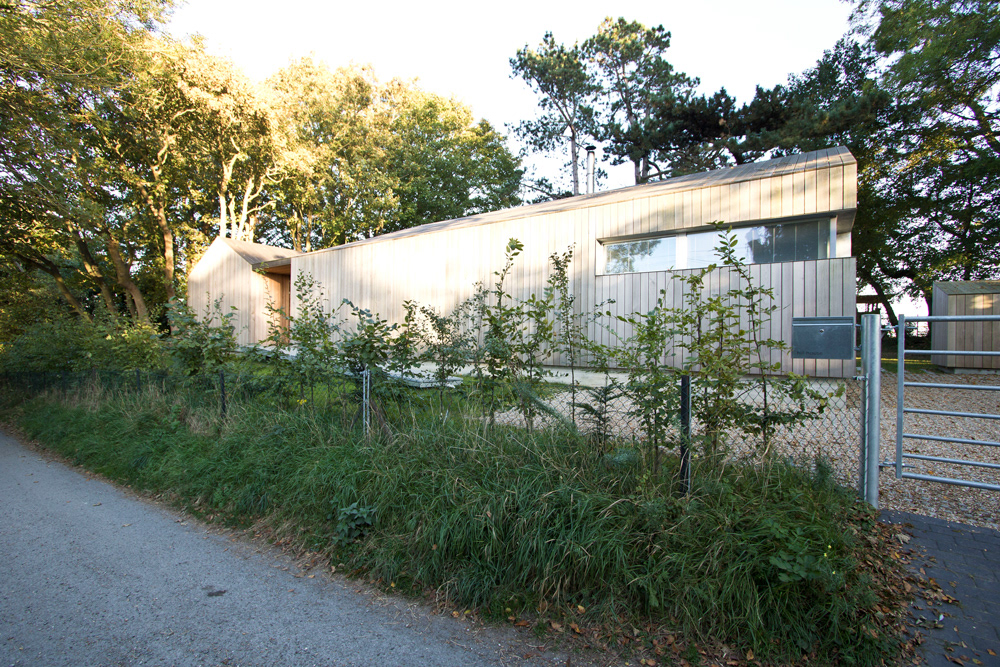 Hill House Passivhaus, Lewes
MELOY architects
The site is located within the South Downs National Park alongside an ancient drove road used by fisherfolk to carry fresh fish from the old fishing village of Brighton to the county town of Lewes. 
The house was conceived as a memory of two dilapidated sheds which the project has replaced. The first contains an open plan living area and benefits from a southerly aspect with full height sliding glazing onto the rear garden. The second contains the bedrooms with east facing windows giving morning light and a more private aspect onto a wooded copse. The space between the 'sheds' is then efficiently planned as a core containing all support spaces. 
A restrained palate of materials references the woodland and rural setting with the external walls and roof wrapped in western red cedar. Aligned vertically and left to weather naturally this contextualises the dwelling amongst the surrounding trees. 
Hot dip galvanized steel references modern agricultural detailing and is used for the entrance ramp and to precisely frame all the triple glazed windows. This approach was chosen not only for its aesthetic relevance to the site location but also the superior longevity and robustness over painted finishes. 
The concrete base grounds the building and is expressed externally allowing the timber cladding to float above the SDNP. Internally a thermally separated polished concrete floor also acts as a heat sink to mitigate fluctuations in temperature. The house is a fully certified Passivhaus - the first within Lewes and the wider SDNP. This produces a building with exceptional thermal performance and airtightness. 
A Passivhaus must have a maximum space heating and cooling demand of less than 15 kWh/m2.year or a maximum heating and cooling load of 10W/m2. A house built to the latest Part L requirements would be expected to have a space heating demand of at least 55 kWh/m2.year, in practice this figure will often be more than double this figure. In addition a Passivhaus must have a maximum total primary energy demand requirement; including lighting and fixed appliances, of 120 kWh/m2/year which ensures that fittings are specified to be low energy and high performance. 
A Passivhaus is fundamentally a dwelling which is comfortable for the occupants. The standard requires that buildings achieve an air change rate of no more than 0.6 air changes per hour @ 50 Pa. Cold draughts are therefore negated. High performance windows and insulation mean that the cold radiant effect of poorly insulated windows, walls and floors are eliminated thus creating a space where an occupant can feel warm without the need to turn up the thermostat. 
A key metric of the Passivhaus design is that the house should maintain a minimum temperature of 16oC without any additional heat input. Summer overheating must also be kept to a minimum in order to satisfy the standard. The use of continuous mechanical heat recovery ventilation (MVHR) also guarantees improved air quality. 
The result is a dwelling that requires little additional energy for heating. Hot water is generated with an air source heat pump and additional space heating can be provided through a sealed wood burning stove. 
Landscaping is undertaken lightly. All trees were retained and a traditional Sussex bullock hedging planted to reinforce boundaries and reinstate those which had been lost. A cedar clad shed defines the separation between drive and garden.


Photographs © Charles Meloy.